RARE Antique Dechoisy Paris Parfum Premieres fleurs "Rachel" Perfume Powder Box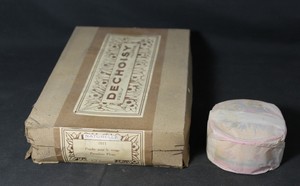 ---
These cardboard perfume boxes are labeled, "POUDRE DECHOISY PARIS RACHEL PARFUM Premieres fleurs MADE IN FRANCE." New old stock, unopened, unused--photos show the unopened store box these are coming out of. Smells flowery.
Measures 2 7/8" diameter, 1 1/2" tall.
PRICE IS PER SINGLE CANISTER! Multiple available! Be sure to message me for an invoice with a shipping discount if you're getting more than one!
ALL ITEMS SHIPPED VIA USPS WILL BE SENT INSURED THROUGH 'S SHIPCOVER PROGRAM!
Be sure to check out all our other items in our storefront!
20% of sales go to benefit the Davistown Museum.item#k353
PLEASE READ THIS! MY POLICIES ON...
SHIPPINGI use 's shipping service so I CANNOT AND WILL NOT ship to any other address than the one you have on file with them. If you buy multiple items, I will combine shipping and give you the cheapest rate possible. I charge less than what it costs me to ship these items now that charges a final value fee on shipping, so please don't complain about costs with no markup (unless you're complaining to USPS or ). I know everyone considers the cost of shipping when purchasing an item, so please do not buy an item and then ask for a shipping cost reduction--ask beforehand if something looks really far off.
MULTIPLE ITEMS: PLEASE request an invoice before paying! YOU HAVE TO GET AN INVOICE FROM ME OR I CANNOT COMBINE YOUR SHIPMENT!
I don't do free shipping or discounted shipping deals, so please don't send me offers including that as a condition.
SCHEDULE
Auctions end on Sundays, shipping days are typically Monday MORNINGS, Thursday, Friday, and sometimes Saturday. I AM OUT OF TOWN TUESDAYS AND WEDNESDAYS AND CANNOT ANSWER QUESTIONS, SHIP ITEMS, OR SEND INVOICES THOSE DAYS!
RETURNS
In short, No.Items are all sent insured, so if something arrives damaged, please retain all the shipping materials and the item and I'll file a claim on your behalf so you'll get a refund.
If you have any questions about these items, please ask.  The photos ARE of the actual items offered unless otherwise noted and should be used as indications of the items' conditions. If I have not described an aspect of the item, please do not make assumptions--send me a message and ask, and I will do my best to answer your question as thoroughly as I can. I am not an expert on everything offered and do my best to research all the items listed, but if you are an expert or enthusiast in a field one of my auctions falls under, I will appreciate greatly any information you can provide!
PAYMENT
As per policy, we ONLY accept Payment through Paypal: DO NOT bid and then ask to pay by check, m0ney order, cash, postage stamps, or giant wagon wheels.