12 Packs x RAW Natural King Size Slim & Tips Organic Hemp Rolling Papers 7161651775860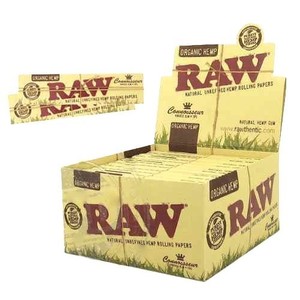 ---
Raw Organic King Size Hemp Rolling Papers come in a double packet with 32 hemp papers per packet. The Hemp paper is 100% chlorine free and unbleached which gives the paper a natural light brown colour.

Each paper is individual watermarked with a Criss Cross which helps prevents runs and creates a more even burning rolling paper. Due to Hemp Gum being used if the gum does not stick as well as you like run the flame of your lighter along the length of the paper to give you a bit more stickiness.

Once alight the taste is clean, pure and natural. One single pack contains 32 rolling papers. RAW Organic King Size Pure Hemp Paper and Hemp Natural Gum All natural, additive-free, 100% vegan

Quantity: 12 units.

32 leaves per unit

Type: King Size Slim & Tips Organic Rolling Papers

Size: 108mm x 36mm

Brand new in original box

Home About Us Returns Payment Shipping Home & GardenTobacciana & Hookah & AshtrayJade & StoneCrystal & GlassFeng ShuiToys & DollsIncenseNautical DecorReligious ProductsPillowsHealth & BeautyGift BagsHavaianasLuxury WatchesToys - 5% DiscountSporting GoodsHelmet Covers- TortugazOther Home About Us Returns Payment Shipping Store Categories Home & GardenTobacciana & Hookah & AshtrayJade & StoneCrystal & GlassFeng ShuiToys & DollsIncenseNautical DecorReligious ProductsPillowsHealth & BeautyGift BagsHavaianasLuxury WatchesToys - 5% DiscountSporting GoodsHelmet Covers- TortugazOther STORE CATEGORIES Home & GardenTobacciana & Hookah & AshtrayJade & StoneCrystal & GlassFeng ShuiToys & DollsIncenseNautical DecorReligious ProductsPillowsHealth & BeautyGift BagsHavaianasLuxury WatchesToys - 5% DiscountSporting GoodsHelmet Covers- TortugazOther USEFUL LINKS View Store About Us Payment Returns Feedback Newsletter Add to Favourite
12 Packs x RAW Natural King Size Slim & Tips Organic Hemp Rolling Papers
24.95 Available: In Stock Contact Us Newsletter Product Description

Raw Organic King Size Hemp Rolling Papers come in a double packet with 32 hemp papers per packet. The Hemp paper is 100% chlorine free and unbleached which gives the paper a natural light brown colour.

Each paper is individual watermarked with a Criss Cross which helps prevents runs and creates a more even burning rolling paper. Due to Hemp Gum being used if the gum does not stick as well as you like run the flame of your lighter along the length of the paper to give you a bit more stickiness.

Once alight the taste is clean, pure and natural. One single pack contains 32 rolling papers. RAW Organic King Size Pure Hemp Paper and Hemp Natural Gum All natural, additive-free, 100% vegan

32 leaves per unit

Type: King Size Slim & Tips Organic Rolling Papers

Size: 108mm x 36mm

Brand new in original box

Payment Shipping Returns Contact Us

We want to ensure that all of our buyers are offered all the benefits that has to offer. In order to ensure that you qualify for Buyer Protection, we only accept payment through PayPal.

Paypal also allows you to complete your purchase quickly and securely. It offers a variety of payment options including all the major card carriers. In order to ensure that all of our customers have equal access to our inventory, we require immediate payment after purchase.

All orders are shipped out within 2 business days. Your order will be shipped out via one of our participating partners including USPS, UPS and FedEx.

We only ship to physical addresses and we are unable to ship to P.O. boxes, APO or FPO addresses. Once we have confirmed that your order was picked up by the shipping carrier, we will update the tracking information through .

In the event that you would like to return your purchase, we allow returns that are processed within 14 days of receipt of the merchandise. Please contact us for a return authorization and the return shipping address. Return shipping and handling is the responsibility of the buyer.

In the event that you receive defective or damaged merchandise, we will replace the item at no cost to you as long as it is reported within 7 days of receipt of the merchandise.

If you have any further questions or queries, please contact us using the "Contact Seller" link in .
Get the Latest News Delivered Daily.
Give us your email and you will be daily updated with the latest events, in detail.

click here to join About Us Payment Returns Feedback Newsletter Add to Favourite bohbo.ida © 2018 . All Rights Reserved. Developed by Kostricani Technology